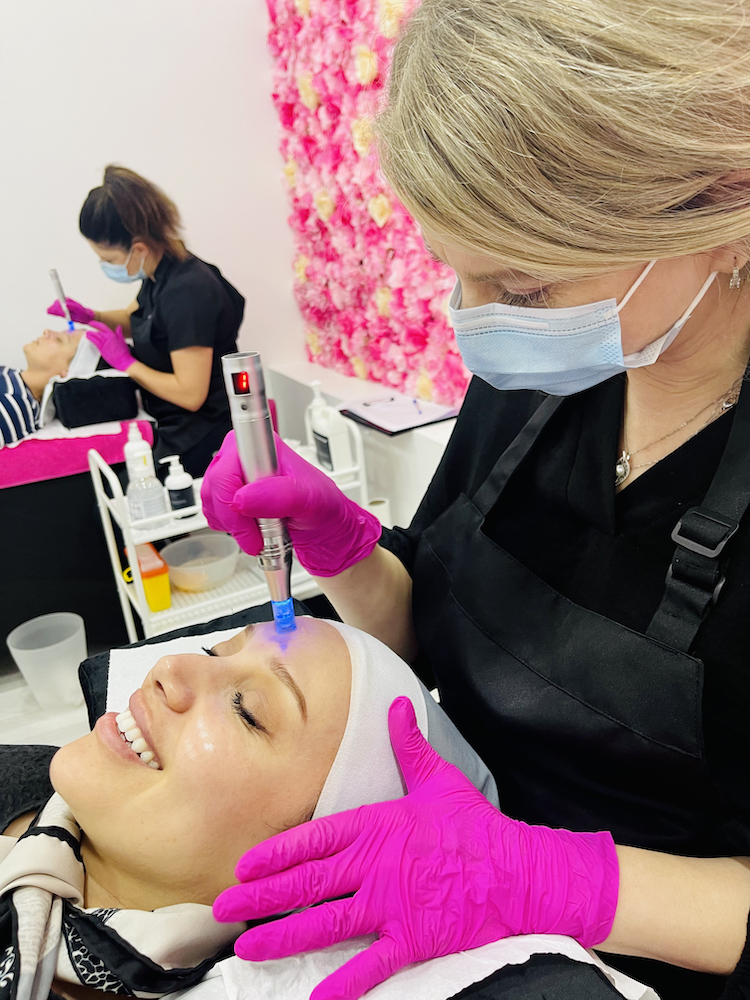 Microneedling Training Course
Microneedling, skin needling or collagen induction therapy leads the way in skin rejuvenation
Starter Kits available (not included)
One Day Course: 11 AM – 5 PM
The main purpose of making this innovative course was to make a new generation of beauty therapists, based on a desire to help people, leave mark from their professional work on clients' faces and bring the quality of work to a higher level.
People are tired of copy-pasted beauty industry workers who do their job automatically, without trying to understand what exactly does the consumer or client needs. The reason why clients chose one beauty therapist to another is a hope that one will live up to their expectations. They expect to be heard and understood. Try to bring in life what customer needs and you will be the best in the market. 
LC Aesthetics Academy has made this course to discover your hidden talents.
The reason why clinics are getting bad reviews is because of lack of information about the consequences of the procedure and clearly prescribed home care. This is another part - professionalism. This is the base of studies of anatomy, dermatology, physiology, chemistry, physics, hygiene, and other disciplines. This information helps beauty therapist to control treatment process, effectiveness, and risks. We offer an intense ONE DAY COURSE which will include essential information from all vital disciplines and will bring your confidence to another level.
What do you expect from the Microneedling course? - Is to be able to provide a high level of knowledge during the treatment which will bring a high income. Our team of highly experienced professionals will lead you from the start (health and safety) till the end (how to sell and make your business more profitable) to fulfill your and your clients' expectations and bring new service to your business or new skills to your workplace.
Once you have successfully completed your training course, you will be:
Qualified to offer Microneedling treatment safely and effectively and be able to help your clients to deal with a range of skin conditions including acne, scarring, fine lines, wrinkles, stretch marks, pigmentation, hair loss, and more;

Be able to create individual treatment plans for your specific clients;

Will have ongoing WhatsApp support.
Course content and lesson plan
This is an intensive course that covers both theory of practical application of skin needling, Micro-needling or popularly known as Dermapen treatment.
Course duration 11am - 5pm
Course Introduction. Theoretical part:
Health and safety;

Sterilization and hygiene;

Anatomy (skin layers, cells, nutrients, and polymers);

Fitzpatrick scale (skin photo-type);

Skin types and conditions

Causes of skin aging;

Therapeutic approaches;

Micro-needling history;

Principles of skin needling pen device with built-in LED or in a popular way called Dermapen in action;

Indications;

Contraindications;

Effects;

How does skin needling pen works on different zones (scars, pigmentation, rejuvenation, acne)

Microneedling pen;

Meso cocktails;

Dermapen VS Dermaroller;

Introduction to LED light device

How to sell and gain your business more efficiently.
Lunch
Interactive practical workshop. Demonstration of micro-needling skin treatment;
Hygiene;

Treatment preparation;

Client consultation;

Protocol of treatment - step by step;

Client recommendations and aftercare

Q & As
Course Pre-Requisites & Certification
NVQ Level 2+ or Facial course
Students without beauty therapist education: can get a certificate of attendance or alternately do a one-day facial course prior to the micro-needling course or if time is of the essence then we offer a one-day intensive course which combines facial and micro-needling courses. 

Beauty therapists with NVQ level 2 and 3, Dentists, Nurses, Medical workers get accredited international certificates by Beauty Industry Approval with the ability to insure micro-needling treatment under their qualification.

If you wish to strengthen your knowledge and be more confident after completion of the course you can do the homework which we will be happy to review in 4 weeks time. You can submit 3 case studies with before and after pictures treating three different skin conditions: post-acne scars, skin aging, skin hydration, or stretch mark treatment.

Students must complete the assessment.
Payment Terms
A deposit of 20% should be paid to reserve a place. Full payment must be made one week prior to the course.
Principles of micro-needling action
The principle of action of fractional micro-needling is based on mechanical damage to the skin, followed by a regenerative reaction. The thinnest needles of pen create immediately closing micro-traumas, which leads to the stimulation of the work of fibroblasts, the release of growth factors, and cell proliferation in the form of neocollagenesis and neoangiogenesis. The newly formed young collagen fibers, elastin, and capillaries are embedded in the dermis without the formation of fibrosis since the micro-trauma closes within a few minutes and the scarring of the connective tissue does not occur.
Stem cells - a building material, a strategic reserve, consisting of immature cells. At the command of the skin, they are rapidly integrated into the destroyed tissues and acquire their properties. Together with them fibroblasts migrate, recreating new cells. Within 24 hours of the procedure of fractional Microneedling of the face, they eliminate the remnants of damaged, dead cells, old collagen, elastin, outdated melanin.  Microneedling restores the upper layer of the epidermis, forming new cells and new layer of the skin.
The severity of the repair process is enhanced by the active components of the meso cocktails applied to the skin before exposure. Through the microchannels formed, the substances penetrate far inland and remain in the deep layers of the skin, acting many times more efficiently than with the trans-dermal delivery method.
Indications:
Wrinkles and fine skin density

Hyperpigmentation

Rosacea

Skin flaccidity

Solar/sun damage

Stretch marks

Skin Rejuvenation

Alopecia (baldness) or hair loss

Hypertrophic, post-acne, and postsurgical scars
Microneedling pen:
At LC Aesthetics academy we offer fractional skin needling pen device which is a portable device that operates in the mini-stamp mode, the form of a pen with interchangeable needle tips or so-called cartridges with built-in LED light. Cartridges are capable of changing needle length and making oscillatory movements. This device can be used in the salon and at home. The procedure does not require complex skills and special licensing of the salon however to be able to operate it effectively one should do the expert training and get insured. The device operates cordless. Each procedure is performed using replaceable sterile cartridges of 12 pin, 36 pin needles, or nano cartridges, the length of which is adjustable from 0.25 to 2.5 millimeters. Each needle has a sharpening, therefore it damages superficial cells and targets the deep layers of the dermis. That is why the procedure practically does not cause discomfort, however in some cases may feel uncomfortable. Unfortunately, anesthetic or, in simple words, numbing cream cannot be used. The ability to control the length of the needles and the vibration of the device creates conditions for complex, diverse, and effective treatment.
Location:
LC Aesthetics Academy is based at a busy and vibrant LC Aesthetics beauty salon in North London, Enfield Town. Please find more details and a map on the "Address" tab of this page.
For the latest news and updates about beauty courses follow LC Aesthetics Academy on Instagram.
Photo Gallery
Facial or NVQ Level 2+

Beauty Therapists, Doctors, Dentists, Nurses, Pharmacists, Medical workers.

Students without beauty therapist education can get a certificate of attendance or alternately do a one-day facial course prior to the micro-needling course or if time is of the essence then we offer a one-day intensive course that combines facial and micro-needling course.
LC Aesthetics Academy
34 London Road
Enfield Town
EN2 6EF
LC Aesthetics Academy is based at a busy and vibrant LC Aesthetics beauty salon in North London, Enfield Town. The nearest train stations are Enfield Town, Enfield Chase or the nearest tube stations are just a short bus ride away – Southgate, Wood Green, Cockfosters, Oakwood, Arnos Grove, Bounds Green, Turnpike Lane, High Barnet. Drivers can find parking in different car parks around Enfield Town.
We are situated just across the road from Palace Gardens shopping centre. The nearest shops Lidl, Iceland, Marks & Spensers, Waitrose all can be reached by 5 minutes walk. We also have most of the banks in the area including HSBC, Natwest, Lloyds, Barclays, Nationwide.
We are also within easy acess from places such as; Essex, Hertfordshire, Bishop's Stortford, St. Alban, Stevenage, Milton Keynes, Bedford, Cambridge, Oxford, Coventry, Birmingham, Harlow, Luton, Loughton, Barnet, Brent Cross, Watford & Hemel Hamstead.
Insurance Partners
United Kingdom
Insync
hello@insyncinsurance.co.uk
www.insyncinsurance.co.uk
03301240730
​
Policy Bee
www.policybee.co.uk
sarah@policybee.co.uk
0345 561 0320
Main Contact – Sarah Adams
Simply Business
www.simplybusiness.co.uk
info@simplybusiness.co.uk
0333 014 6683
Bolt Insurance
www.boltinsurance.com
krodrigues@boltinsurance.com
1-800-216-4171
Main Contact – Kevin Rodrigues
Salon Insurance 4u
www.saloninsurance4u.co.uk
anthony@bis-nationwide.co.uk
0800 6444232
Main Contact – Anthony Pearson
Ireland
KennCo
www.kennco.ie
0818 25 20 25
Munster Group
www.munstergroup.com
info@munstergroup.com
+353 65 6841766
International
United States
ASCP Skincare
www.ascpskincare.com
800-458-2267 (employer option 6)
mkreps@ascpskincare.com
Main Contact – Melissa Kreps
Australia
Salon Insurance
www.saloninsurance.com.au
heidi.lokotui@saloninsurance.com.au
1300 373 586
Main Contact – Heidi Lokotui
Spain
AbbeyGate
www.abbeygateinsure.com
h.claims@abbeygateinsure.com
0034 951 27 74 55
Main Contact – Matt Eaton
Canada
Aligned Insurance
quotes@alignedinsurance.com
1-866-287-0448
Netherlands
Kendall Mason
www.insurance-netherlands.com/
info@kendallmason.nl
+31 (0) 35-8200999
Singapore
QBE
www.qbe.com
info.sing@qbe.com
+61 2 9375 4444
When you book a course with us, we take either a non refundable deposit of 20% or a full payment for the course.
Payment will secure your place. All courses have a limited number of spaces.
All payments must be made in full, two weeks prior to training date.
LC Aesthetics Academy reserves the right to change course date.
Fees will be refunded only if a course is cancelled by LC Aesthetics Academy.
If you are unable to attend we will endeavour re book the course at no extra cost, 2 weeks maximum notice will apply.
We cannot accept last minute cancellations and we cannot reallocate your space to another student, meaning the following will apply:
-We will not accept postponing this course with less than 2 week's notice prior your training date.
-Any postponement within 2 weeks prior to course date will incur a £50 admin fee.
All training is confirmed via email.
Course materials and certificates costs are included in course price.
Complementary treatment is encouraged and offered on the training day, there is no reduction in price if this offer is not taken up.
Special offers will be released periodically and must be paid in full at time of booking.
You can have only one active discount at any given time.
All enquiries to contact@lcaesthetics.com or 020 3952 9599
LC Aesthetics Academy offers continuous support for students via Whatsup or email
The Privacy policy applies to our use of any and all Data collected by us or provided by you in
relation to your use of the Website.