TREATMENT BENEFITS
Evens skin texture and skin tone
Smoother and softer skin
Reduces appearance of fine lines and wrinkles
Anti-ageing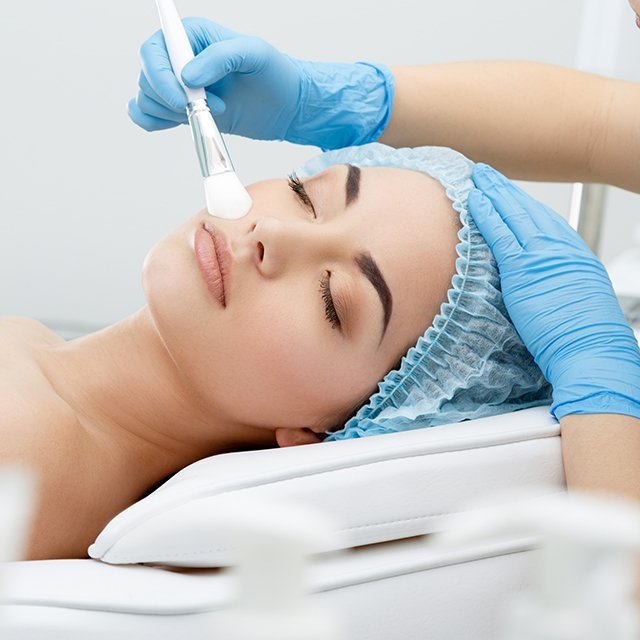 WHAT IT CAN HELP WITH
Evens skin texture and skin tone
Smoother and softer skin
Reduces appearance of fine lines and wrinkles
Anti-ageing
Is a peel good for your skin?
A light chemical peel improves and evens skin texture and tone and reduces appearance of fine lines and wrinkles. The results are subtle but increase with repeated treatments.
How often should you get skin peels?
If you need or want light peels it is recommended usually get them every month. Medium skin peels, it's advisable to wait four or six months in between appointments.
Deep skin peels are usually done at the beginning of a longer treatment plan, setting you up for success by giving you a fresh surface to work with. Those who wish to get deep peels should only do so once every few years.
Skin Peel Treatment Prices
Swipe left and right to see Prices fully
| | Single Treatment | Course of 3 Treatments | Saving |
| --- | --- | --- | --- |
| Skin Peel | £59 | £149 | £28 |
| Deep Cleansing Facial + Skin Peel | £99 | £245 | £52 |
| Dermapen + Skin Peel | £149 | £369 | £78 |
Deep Cleansing Facial + Skin Peel
TREATMENT BENEFITS
Anti-ageing
Removes acne
Removes scars
Removes pigmentation
Deep cleanse and hydration
Eliminates blackheads and whiteheads
What it can help with
Anti-ageing
Removes acne
Removes scars
Removes pigmentation
Deep cleanse and hydration
Eliminates blackheads and whiteheads
Deep Cleansing Facial + Skin Peel Prices
Swipe left and right to see Prices fully
| | Single Treatment | Course of 3 Treatments | Saving |
| --- | --- | --- | --- |
| Skin Peel | £59 | £149 | £28 |
| Deep Cleansing Facial + Skin Peel | £99 | £245 | £52 |
| Dermapen + Skin Peel | £149 | £369 | £78 |
Treatment Benefits
Anti-ageing
Deeply hydrates
Removes acne
Removes pigmentation
Boosts collagen and elastin production
WHAT IT CAN HELP WITH
Anti-ageing
Deeply hydrates
Removes acne
Removes pigmentation
Boosts collagen and elastin production
Dermapen + Skin Peel Treatment Prices
Swipe left and right to see Prices fully
| | Single Treatment | Course of 3 Treatments | Saving |
| --- | --- | --- | --- |
| Skin Peel | £59 | £149 | £28 |
| Deep Cleansing Facial + Skin Peel | £99 | £245 | £52 |
| Dermapen + Skin Peel | £149 | £369 | £78 |